More documented miracles I have been a witness to (God is so Good)… What a week!
August 24, 2014 Hana Vilela and Family – Divine Appointment – Miracle 1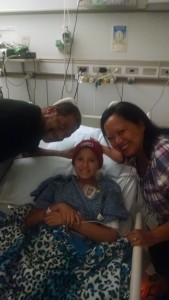 Hana Vilela, Me and my wife Caroline
On Sunday August 24, 2014 – a day I won't forget. I was scheduled to meet with my fellow Ironmen Delta Squad (our Men's Bible study small group) at Denny's Restaurant on Foothill & Rochester in Rancho Cucamonga. There were six of  us that gathered to have a time of fellowship, speaking the word and getting to know on another a little bit better. I noticed as we sat down began to fellowship that a family seated near us was taking notice of our conversations (specifically one of the women) so I thought to myself, we are being watched and better be on our best behavior.  Well, immediately after we prayed, the family started to leave  and the mother came to our table, asked us if we were Christians, and if we could do her a favor and pray for her daughter Hana who had a rare form of bone cancer on her right knee.
We agreed to and stood to pray and lay hands over her and her husband in proxy for their daughter. As I walked them out to give them literature from our church and began telling them we were from Abundant Living, they immediately replied that they had just come from the last service and heard Pastor Diego's message on Miracles. That's when I knew this was a divine appointment. Especially since I was going to pick the denny's on Millikan but the day I sent the text to the group, the Holy Spirit had me change to the Foothill location. Didn't understand at the time but looking back I do now. Then I got to meet Hana who was waiting outside with other members of the family. After talking with her and the parents I knew that this little angel was destined to be part of my life. So my wife and I, another fellowship ALFC member, Ty Wright went to their home prayed over Hana and over the next few days, we visited with the family and saw her after her surgery, on Thursday night.
They removed the bone that was cancerous and she was in very high spirits and blessed us (my wife & I) to see how courageous this little 12 year old was/is! We know that she will dance again and look forward to being part of the journey.
August 28, 2014 Armando Leyva – Miracle 2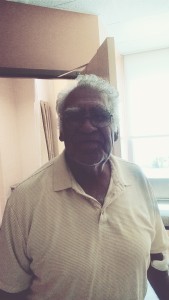 One of our Brothers in Men's Ministry had a massive stroke, received call as I was headed out to do a follow-up visit with  another miracle/divine appointment that happened earlier in the week (Hana Vilela), sent a text prayer chain out as I could not be in two places at one time. Later in the evening while visiting with Hana Vilela (approximately 1 hour later), I get a call from one of the brothers who was visiting  Armando and he put Armando on the phone, who started praising  Jesus for his healing and thanking God for the miracle. I got a chance to see him on the day (that following Saturday) he was released and you couldn't tell he even had a stroke let alone a massive one. Praise God.  He came to Church this past Sunday  (one day after I saw him).